Auction Information
Owner: Russell, Dave & Steve Spindler & Karen Hily
Sat Dec 04, 2021 - 10:00AM
11114 English St, Hoagland, IN Click to Map
Schrader Real Estate & Auction Fort Wayne
E-mail Auctioneer
Auctioneer's Web Site
Auctioneer ID#: 48312
Phone: 2607490445
License: AU19300123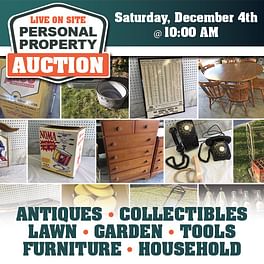 LIVE ON SITE AUCTION - PERSONAL PROPERTY - HOAGLAND, IN
HOAGLAND, IN 46745
Owner: Russell, Dave & Steve Spindler & Karen Hilyard
Sat, Dec 4, 10:00 AM
• Antiques • Furniture • Tools • Pepsi & Coke Items • Lawn Equipment
AUCTION LOCATION
11114 English St, Hoagland, IN 46745
EQUIPMENT & PERSONAL PROPERTY
ANTIQUES & COLLECTIBLES
Ertl IH pedal tractor w/ original trailer
6.5" Aluminum Christmas tree in original box
Noma Vintage rotating Christmas tree color light
IH International Harvester items: Emblems, pocket books, employee cards, hats, satin jackets, award pins
45+ wood pop cases: Coke, Pepsi, Vernors, Dr. Pepper, 7 UP
Metal pop case stand
Pepsi metal 3 shelf store display
100's Pepsi & Coke collectors bottles
7 Up collectors bottles
7UP bottle opener
Anco service station wiper display cabinet, metal
Budwieser Clydesdale clock
Bud Light mirror
Strohs lantern hanging light
Pot metal chrome horse lamp
Large steamers trunk
MCM ship painting
Vintage Black Beauty rocking horse
3 Kings menus
Blow mold Santa & outdoor candles
GE copper electric heater
Celluloid dial phones
Early wood child's rocker
MCM moon & stars hanging light
Large amount costume jewelry
Ladies watches: Bulova, Elgin, Bnrus w/ diamonds, Driva 14k.
Vintage Kodak The Handle instant camera
110 cameras
Oil lamp
Hall yellow pitcher
Fire King blue sapphire mixing bowl set
Green depression 2 cup measuring cup
Large yellow Pyrex bowl
Mission oak footstool
3' wood step ladder
RCA Victor floor model radio phonograph
Cast iron skillets
'09 Thomas Flyer Beam car bottles never opened
Cornell Supply metal tap & die sizing sign, 16" x 23"
Cross cut saw
Kmart vintage 70's All Pro girls bike w/ banana seat
Decker 5 gal. lard can
Dana Weatherhead hardware cabinet
Early Star Wars promotional posters
Galvanized tubs
Double tubs

LAWN & GARDEN & TOOLS

(2) newer self propelled push mowers, rear baggers
2 HP air compressor
Grinder on stand
Older Sprunger drill press
Rolling tool chest
Vintage Jacobson power reel mower
Scotts reel mower
100's of hand tools
Large selection machinest tools
Taps & dies
16' wood extension ladder
24' aluminum extension ladder
Dozens of garden tools
Wilton 4" swivel vise
(3) 2 x 12 x 14' planks
Floor jack
Large quantity of nuts & bolts & assorted hardware
Crossman slide action BB gun

FURNITURE & HOUSEHOLD

Kenmore washer & electric dryer
Floral sofa
Oval wood table w/ 6 chairs
Green sofa
Assorted LR chairs
Lamps & end table
3 pc. childs twin bedroom suite
Maple bedroom suite
MCM Bassett 50's full bedroom suite
Pine 5 drawer chest
Console sewing machine
Jewelry armoire
Oak hat tree
Floor fans
New Cosco folding step stool
Metal folding chairs
Card tables
5 drawer legal file
Entire house full of decorator items, cookware & housewares
Auction Listings provided by AuctionZip.com. Although the information published herein is from sources deemed reliable, AuctionZip.com expressly disclaims any liability for errors, omissions or changes regarding any information provided for this auction. Potential buyers are urged to verify auction date, time, and content directly through the auctioneer's website or by contacting the auctioneer directly. The terms and conditions of the auction may or may not be published in this listing. ALL TERMS AND CONDITIONS AND OTHER ANNOUNCEMENTS MADE THE DAY OF THE AUCTION ARE BINDING AND TAKE PRECEDENCE OVER ANY INFORMATION FOUND HEREIN.